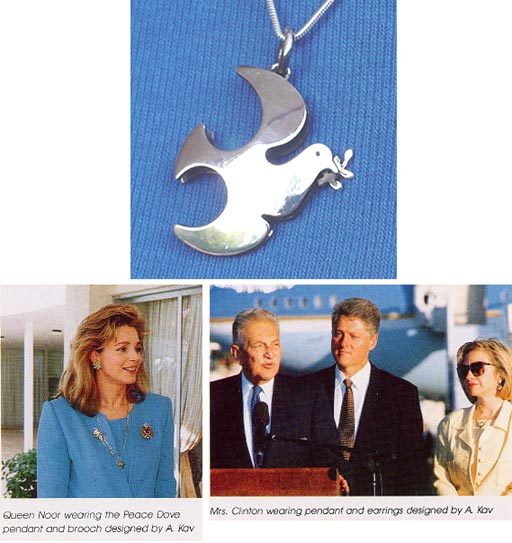 The unique, hand made "Dove of Peace" created by international design award winner Amitai Kav has become the accepted symbol of the middle east peace process. As earrings, broaches or pendants the doves were warn by Mrs. Reuma Weitzmann, wife of the President of the State of Israel and Queen Noor, wife of the King of Jordan, at the historic ceremonial signing of the peace agreement between Jordan.
During the two days of ceremonial activities Hillary Clinton and Leah Rabin also wore art jewelry created by Amitai. It is very rare indeed that the wives of all major participants in the ceremony would wear jewelry designed by the same artist.
You can also celebrate the Shalom, Salaam, Peace by wearing your own Sterling Silver Peace Dove Pendant presented to you by Artista Gallery.
Other exclusive works by Amitai Kav were presented by Israeli Prime Minister Rabin and his wife to King Carlos of Spain and to Mrs. Jihan Sadat, wife of the late President of Egypt.